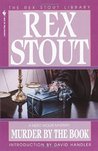 Murder by the Book
by
Rex Stout
My rating:
4 of 5 stars
Re-reading Rex Stout's "Murder by the Book" (1951) concludes my experiment that was supposed to establish how my reception of the Nero Wolfe series has changed over 30 - 45 years. The first two re-reads were not quite conclusive (I review "The Mother Hunt"
here
and "Champagne for One"
here
. Well, I have not changed my opinion of "Murder by the Book" much. It is an outstanding mystery and a very good book overall. A magnificent 32-page fragment rivals the best writing of Ross Macdonald and Raymond Chandler (yes, in this order).
When Nero Wolfe and Archie Goodwin discover a connection between two seemingly unrelated murders - a staff member of a law firm and an editor in a publishing house have been found dead - Wolfe is hired by the father of one of the victims to investigate. The connection is of literary nature (thus the title) and when yet another murder occurs it is also related to a book that looms in the background. Archie uses a clever 48-orchid trick to gather many female employees of the publishing company in Wolfe's office and - thanks to his manly charms - manages to gather some information. This is obviously implausible, which is usually a turnoff for me, yet the episode is somehow charming, and well written, and it gets the thumbs up.
After some further plot developments comes the unforgettable 32-page passage, where Archie goes to Los Angeles to conduct Wolfe's investigation and meets Mrs. Peggy Potter. The sequence of events is cleverly structured, the writing is beautiful, and the "almost love story" between Archie and Mrs. Potter is deeply touching yet sweet. I think I must have cried when reading it as a teen. In addition, the sub-story has many funny touches; for instance, Archie comes back from California, where it has rained incessantly for fours days, to New York, which is basking in early spring warm sunlight.
The flight from New York to Los Angeles took 10 or 11 hours in 1951. Most everybody smoked. To send a telegram (what's a telegram?) one had to go to a drugstore. Phone lines were often busy ("circuit congestion"), which made communication impossible. Ah, these were the wonderful days.
Alas, at the end, Mr. Stout again has Wolfe gather in his office the 17 people connected with the investigation to pompously expound the solution of the case. Why can't I tame my dislike of this theatricality? Still, unquestionable five stars for the California episode and four stars for the rest of the book. Maybe one day I will round the average up, with a dedication to Mrs. Potter, with her twinkling eyes and little giggles. She would be about 100 years old today, if she were alive.
Four and a half stars.
View all my reviews