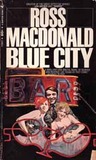 Blue City
by
Ross Macdonald
My rating:
1 of 5 stars
"
[...] I could see the vigorous movements of his right arm and shoulder up and down, back and forth, as he worked on it with the knife. When I got back to my car a quarter of a mile away, I could still hear her screams - or thought I could.
"
Ross Macdonald - the pen name of Kenneth Millar - is mainly known for the famous series of novels featuring the wise and humane PI, Lew Archer. I have recently finished re-reading and reviewing on
Goodreads
the entire extraordinary series, with its last entry,
The Blue Hammer
. Yet Mr. Millar also wrote stand-alone novels, and
Blue City
(1947), one of his earliest works, originally published under Millar's own name, does not feature Lew Archer. Instead, it is a thriller set in a fictional Midwest town in 1946.
The narrator, John Weather, freshly discharged from the army, comes back to the town of his youth after a ten-year absence. His father had been the mayor of the town before he was murdered two years ago. The first thing John does when he arrives in town is to help an old man who had his money stolen by two hoodlums. John handily beats them up which instantaneously sets the tone of the story: we have a truly hard-boiled hero not averse to use physical force. It becomes clear that John has come back mainly to find his father's killers and avenge his death. Soon he finds out that the town is controlled by a criminal machine, driven by greed, extortion, and blackmail, and he has to - virtually single-handedly - defeat the criminal enterprise.
The plot is firmly grounded in pulp literature clichés. Seventy years after the book was written they read awkward and often ridiculous. The contrast between this story and Macdonald's much later superb writing, such as in
The Underground Man
or
The Chill
is absolutely staggering. It is almost as if one were to believe the same author wrote
Ulysses
and the plots for reality shows. Well hidden in this heap of stereotypical drivel are occasional glimpses into Mr. Millar's true potential and his literary interests:
"[...] the good people of the town [...] were protected against the lubricity of Rabelais, the immorality of Flaubert, the viciousness of Hemingway, and the degradation of Faulkner."
Yet the absolute majority of the novel is suitable only for adolescent boys: beatings, shootings, blood, and torture, with guns being the main device of human communication.
The "romantic" thread is not well written and contains pearls of prose worthy of Jackie Collins Writing School graduate:
The streams of our desire rose, met, mingled, and subsided. I felt empty, dazed, and spent."
Ouch! Macdonald's favorite cheap plot device - accidentally overhearing peoples' conversations - is used three times. Many dialogues are dated and sound like lines from bad James Cagney movies. In one totally implausible passage, 22-year-old John talks with the cynical wisdom of a 60-year-old. There is a curious passage about Mr. Kaufman and his Marx and Engels' books, Red threat, and C.I.O. agitators. On the positive side, I have learned one new word, 'hoydenish'.
A bad novel by a great writer.
One and a half stars.
View all my reviews